Bellissima Bride Deerfield Wedding Dress Shop is an investment in life-long memories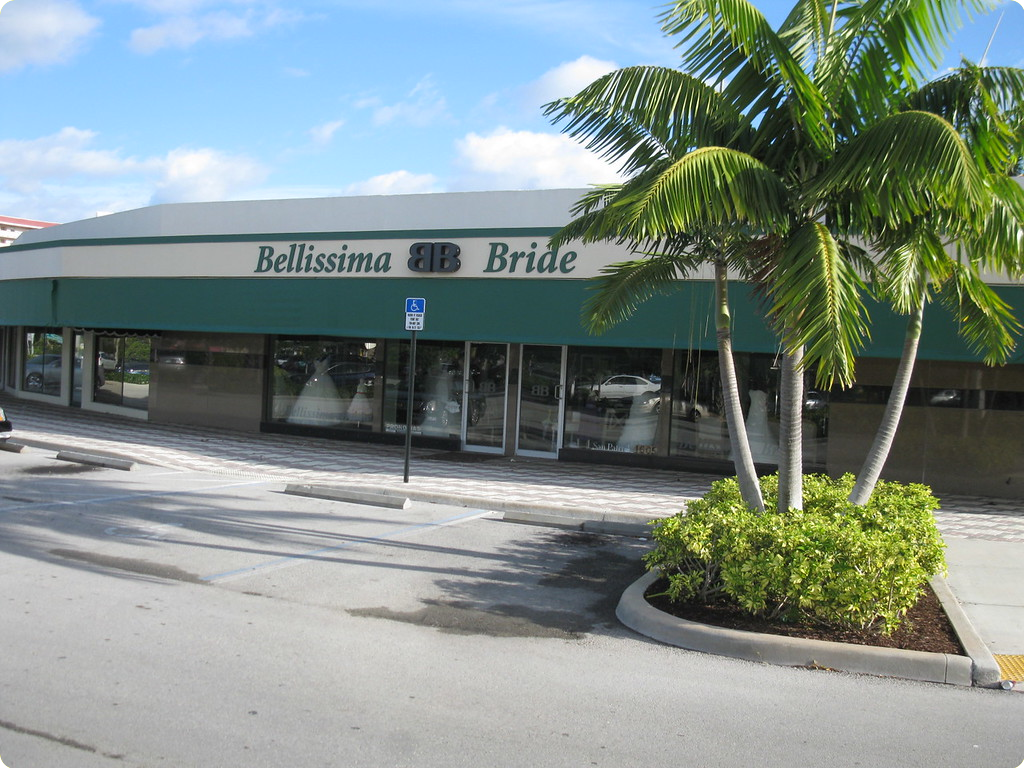 Why Should You Try Bellissima Bride Deerfield?
◊  Because we offer some of the most Beautiful Bridal Gowns and Wedding Dresses at Moderate Prices.
◊  Because Tania's Alterations and Bustles have won praise and awards, year after year.
◊  Because in 21 years Bellissima Bride has become the Standard of Service and the go-to Bridal Salon in South Florida.
◊ Because the difference is priceless.
But really?...Because you said "YES" to the one you love.
From the beginning...
Bellissima Bride, as our name implies, is all about the BRIDE. As one of the best Since 1996 we have provided South Florida with some of the finest collections of wedding dresses and Designer bridal gowns.
We are a full-service bridal shop located in Deerfield Beach, FL. Our wedding dress experts and in-house wedding dress alterations department have been awarded for their impeccable service. Bellissima Bride has several exclusive programs designed to make your bridal gown more affordable and gives you the versatility to adjust your budget. Our wedding dress collections start at $1000.00 and range to $6000.00
One Of The Best South Florida Bridal Shops
Since its inception, The Knot has bestowed Tania and her staff with five consecutive "Best of Weddings" awards as well as Wedding Wire's numerous 5-star reviews that attest to Tania's Best Bridal Tailor reputation not only in Florida but throughout the East coast. We are very proud of these awards as they were voted by not only Florida brides but the many more from Canada to South America and the Caribbean.
Best Wedding Dress Alterations Near Me
Bellissima Bride has an award-winning, in-house wedding dress alterations department. We are proud to have six bridal tailor and couture specialists in our staff. With more than 120 years of combined experience, our wedding dress alterations department consists of state-of-the-art facilities and highly skilled professionals who are committed to making you look and feel beautiful on your big day.
Profile & Policy
In 1996 Bellissima Bride opened in Deerfield Beach. The salon has been very successful and true to the original concept of giving service, service and service. With many different designers and our offering of custom alterations, Bellissima Bride can truly offer a bride her dream gown.
In 2004 Bellissima Bride welcomed the arrival of West Coast Designer Tania Marco Vecchio. Tania has been in the industry for over thirty years, having received her Degree in Design in 1971. She is a Master Pattern Maker, as well as Grader. Her presence on our staff has solidified Bellissima Bride's reputation as one of the top Couture Houses on the East Coast as well as the most experienced group of professionals anywhere.
Alterations: Wedding Dresses, Bridal Gowns
Altering your Wedding Dress is like retouching the Mona Lisa. Some need a little, some a little more. We treat it with honesty for the fit, integrity for the design and Award Winning Expertise-
We are proud and blessed to have six Tailor and Couture Specialists in our staff. With more than 120 years of combined experience, our Alterations Department consists of highly skilled professionals committed to make you look and feel beautiful: a Bellissima Bride.
Our services consist of three fitting appointments and a delivery day the week of the event or travel day. Normal Alterations start 6 weeks before your wedding and include taking your gown and fit it to your body: hem and bodice. Creating and crafting a Custom Bustle that is best fitted to the dress as well as your personality. Pressing and delivery in a special Bridal Bag, as well as storage of the gown is also included. For our Bellissima Brides, this service runs from an average of three hundred seventy-five dollars to a maximum of four hundred and ninety-five dollars. (depends on the work to be done).
PLEASE NOTE:
When you purchase a gown, it is SIZED to the larger measurement of the Designer's size chart. Through alterations, it is FITTED to your measurements.
It is a lot easier-and vastly less expensive- to take in than to add on.
The cost of this service is NEVER included in the purchase price.
Additional and extensive RE-DESIGN of your gown is not included in "normal" alterations. Custom re-designs will incur additional cost.
Crinolines and undergarments are available, but not included.
You are in no-way obligated to have your alterations done here: You may pay for the dress and take it to any one you wish. (Bag provided also)
These dresses are complex. And they are getting more so. This is not a job for Aunt Mary or Bill, at the cleaners. Please use the services of a Professional Bridal Tailor, whoever you choose.
Contact Info
The Cove Shopping Center, 1605 SE 3rd Ct, Deerfield Beach, FL 33441
Copyright 2009/2019 BB Inc. • Bellissima Bride • 1605 S.E. 3rd Ct. • Deerfield Beach, FL 33441 • Tel. 954-426-6116